Don't miss out on potential customers
Customers want (and rightly expect) to be able to pay by card in the modern world. In 2020 over half of all transactions were made by credit or debit card* and this has continued to grow in 2021 and 2022. Cash is declining in the region of 15% per annum, and Britain is rapidly becoming a cashless and contactless society.
Card
 payment
 benefits:
Take payments faster, no wasting time counting change

Avoid scammers! Reduce the risk of you receiving counterfeit money

People with no cash can still pay for a taxi

Don't miss out on potential fares because you cannot accept card payments

Since the pandemic, people are more careful about hygiene – cash is not hygienic

Avoid carrying cash and thus, being targeted by criminals
The card payment terminal is contactless and works with mobile payments such as Apple Pay and Google Pay plus Chip & PIN. It works seamlessly with iCabbi – the price is automatically passed from the Driver App to the terminal and payment information is passed back to iCabbi and is stored in the booking and card payment reports. Payment to drivers can be made in as little as 24 hours or go towards their driver rent (all fully configurable).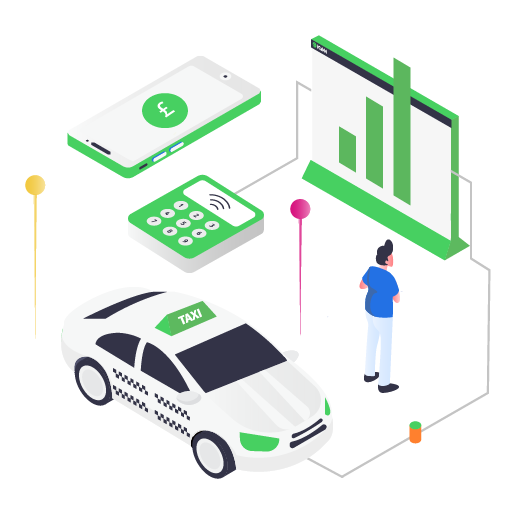 For taxi firms looking to keep up with ride-hailing giants like Uber, staying relevant to the ever-changing demands of customers, having card payment facilities in place is a must!
What will this include?
Each unit will be supplied with 3 x in-vehicle stickers which advertise the ability to pay via card in the vehicle.
Simply connect the pin pads via Bluetooth connection to the iCabbi driver App.
Once payment is shown as complete in the App, it is sent directly to your own Stripe account (the same one used for other iCabbi products such as the consumer App). All fees paid will be subject to the charges set by Stripe.
We will work with you to set an appropriate booking surcharge amount that easily covers the Stripe costs.
FREE Pin Pads will only be supplied to fleets that are committed to providing their passengers with an option to pay by card.
Plus you can get your card payment device for FREE!**
For more information call 01623 44 22 11 or email enquiries@icabbi.etgl.co.uk.
*Source for data: https://www.ukfinance.org.uk/sites/default/files/uploads/SUMMARY-UK-Payment-Markets-2021-FINAL.pdf
**Fleets must average 20 transactions per PIN Pad per month, or we reserve the right to administer a charge of £2.99 + VAT per month per PIN Pad. For example, if 10 devices are supplied, the fleet is expected to complete at least 200 transactions (10 PIN Pads x 20 jobs). Your drivers simply need to complete 5 card jobs a week.