Rewarding Loyal Customers With iCabbi - A Great Prize on Offer!
In the same way that taxi drivers would expect loyalty, we know that our iCabbi customers would expect the same. That's why at iCabbi we want to let you know about all the great offerings we have if you are already on board with iCabbi. Keep reading to find out how you could be in with a chance to win a device with Taxi Booker software licenced and paid for 12 months!
Make sure you are following our iCabbi Facebook page
Perhaps just as importantly though, we want to reward your loyalty in the best way we can. That's why we want to say a big thank you to those who came through the pandemic with us. By now, if you are an iCabbi customer, you should have received a letter from Richard Moore of Exel, letting you know that you have been entered into our prize draw. Ten lucky customers will each receive a tablet with Taxi Booker software licence paid for, for 12 months. That's right, TEN of you can win so there is a great chance that you would be able to win.
The letter explains that you will be able to watch the raffle live on our Facebook page, so make sure you like us! Imagine the feeling if you are a winner and you see your name drawn out of the hat, LIVE. What a feeling. There are so many perks to being an iCabbi customer and this is just one more to add.
What can you do with your Taxi Booker Software prize?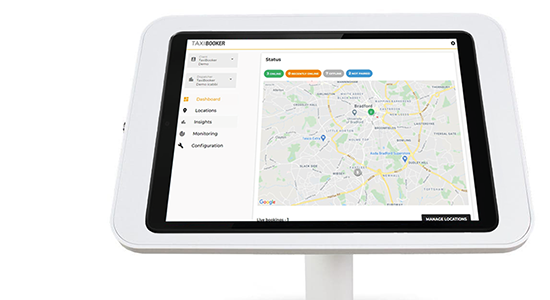 Well, if you are one of the lucky winners of the iCabbi prize, you'll be able to place it anywhere you like. It can be put in any pub, club or restaurant and hotel, which are the ideal places you would want a taxi booker software tablet, aren't they? You can reach your target audience with a simple placement and you wouldn't have to pay a penny for the software. In the battle against Uber, this would be very important.
iCabbi vs Uber – How we are looking to improve
As was noted in the letter to all of our loyal iCabbi customers, Uber currently has a big advantage with its app, but the gap is closing. With the capability of passengers being able to book pretty much anywhere in the UK coming to the iCabbi passenger app, there are big plans ahead. The iCabbi passenger app is something that can really make a difference and it is very exciting. You can read up more on the future technology and advancements we are making by visiting the iCabbi passenger app page here.
When is the draw to win a Taxi Booker Software Licence?
The draw for the TEN lucky winners (that number again) will be on Friday 29th October at 10am. If you can't make it then all winners will be published on the page, but you will also be contacted by your Customer Success Executive if you are a winner.
For any more info on the draw or on becoming an iCabbi customer, drop us an email at enquiries@icabbi.etgl.co.uk and we'll make sure we get back to you. We'd be delighted to have you onboard at iCabbi.
Raffle Terms & Conditions
These Terms & Conditions apply to the customer raffle taking place on Friday 29th October 2021. All eligible customers will receive one entry into the draw, whereupon 10 entries will be drawn randomly to win a prize. Each prize will consist of a Tablet and a 12-month subscription to TaxiBooker software for use on that tablet. To be an eligible customer, you must have an active iCabbi account with Exel Technology Group Limited and your account must be up to date and have a Direct Debit in place as of 12 Noon on Thursday 28th October 2021. Exel Technology Group Limited is the Promoter.
Exel Technology Group Limited reserves the right to substitute a prize to an alternative prize of a similar value at its sole discretion. Winners will be notified in writing and the details of the winners will be published on our website. By entering the prize draw, you agree to be bound by these Terms and Conditions. No correspondence will be entered into.