Putting your passengers at the forefront of your taxi business
16th January 2022
Blog
Putting your passengers at the forefront of your taxi business. Why is it so important and how can you do it? Both of these questions are answered below in our latest blog about the benefits of your taxi company having a passenger app.
Passengers are important to your taxi's success
Whether you are a one-man fleet looking to provide an excellent service or a growing taxi business, the aim is always the same. It should be to ensure that your passengers are happy and satisfied with the journeys they have and they will use you again. This would result in returning business, and subsequently, more money. If your aim is to eventually expand your taxi company to a fleet of drivers, the best way to do it is to make more money.
Sounds good, doesn't it? That's why we believe the best way to grow your business is to put the passenger first. Obviously, with big taxi fleets, the drivers are very important, but without happy passengers, you won't have many drivers.
The iCabbi passenger app
The iCabbi passenger app would help you to create happy passengers and easy journeys. In fact, an automated taxi software and dispatch system would reduce your costs, as well as save you time. Additionally, you'd be able to brand the app up in your own company colours so that you are adding a personal touch to your potential passengers. The end result would be to have as little hardware as possible, with your business at your fingertips.
Why would I need my own branded passenger app?
No matter what size your fleet is, you will want to come across as approachable. No potential customer or passenger wants to have trawled the internet to find your phone number. They want to know they can get hold of you and book a journey ASAP. Your brand isn't just about fancy colours, it is also about reputation and approachability. A brand is what people think about your company.
Reviews on Google, Social Media and your website all stack up and help to sway the customer. Fortunately for you, iCabbi offer a white-label taxi dispatch option for their apps. As a taxi company, you would be able to have your name, logo and colours on the app. Click here to learn more about the passenger app software.
Providing Transparency to the Passenger
Providing transparency to the passenger could be the key indicator in closing a potential passenger. The passenger app provides a map for your customer to see. They will be able to understand which driver has been assigned to them and whereabouts they are currently, all in real-time.
Not only will the passenger be able to see the location of the driver, but there will also be an estimate of how long it will be until they reach your location. Transparency is key when it comes to passengers and the app could help you to secure that journey. All these little factors can play a big part in more journeys for you, resulting in more money for your business and drivers!
Get a sense of how you are performing
You can get a sense of how your drivers are performing and what the passengers think of your journeys by allowing passengers to give them a rating. The app provides passengers with the possibility of rating your driver and their journey. Again, we go back to that key word when it comes to passengers in taxis: transparency.
These reviews could help tip the passenger in your favour when it comes to securing more journeys. If you get your pricing right, this could be exactly what you need. If you would like to know more about iCabbi, and why you should choose their automated taxi dispatch solution, this video would be a great watch.
Don't just take our word for it
We're not here just to promote the service though. At iCabbi UK (ETGL), the customers do the talking for us also. Just take a look at the review below and click on the graphic to view more of our testimonials.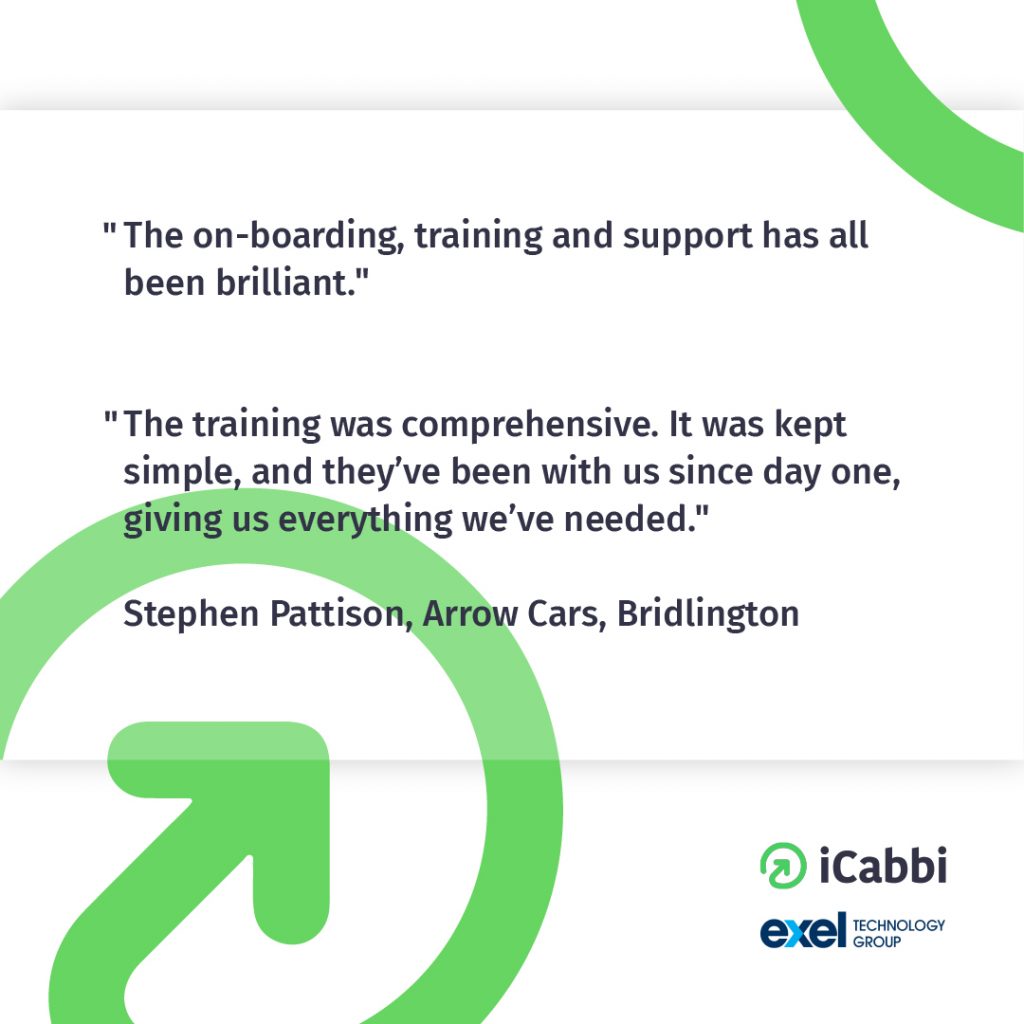 If you'd love to know more about the passenger app, or any other automated taxi dispatch solutions, please do get in touch via the contact form. There is also the option to view the taxi dispatch software in the flesh for FREE.