Avoid overbookings with iCabbi's taxi solutions
2nd January 2022
Blog
iCabbi offers an automated taxi dispatch solution around the globe. For taxi drivers, the automated taxi dispatch software in the UK has been a revelation. Taxi companies are able to automate their systems to ensure their drivers are happy, their passengers are happy, and that the system does not break down and cause inconvenience to your taxi business.
How to avoid overbooking your fleet with automated taxi dispatch software UK
Overbooking your drivers can be an administrative nightmare. This has long been the case with taxi companies that have operated with manual dispatchers. Fortunately for those who organise taxi fleets and bookings, iCabbi has developed a state of the art automated software which allows operators and users to block out time zones when they know they are already overbooked.
This limits the potential for fleets or drivers to be overbooked. Having a fleet that cannot cope with passenger demand could be detrimental to your business. That is why it is important to get ahead and ensure you have blocked out the relevant time zones. In a similar way to how surge pricing works, it is about ensuring you get the best out of your passenger demands, during busy periods.
Surge pricing would mean that you can increase your prices and earn more money, without having to fulfil more journeys. With competitive rates, you can limit the number of journeys you have to fulfil also. Obviously, it would be hard to turn down more journeys, but by utilising your dispatch software correctly, you can ensure you earn enough money and run a smooth taxi operation.
Choosing the right taxi dispatch software in the UK to limit overbooking
In any business that you are offering a service, you need to be able to adapt to customer demands. If you operate a restaurant, you will need booking software to ensure you have enough tables to accommodate any bookings. It's the same with taxis.
If there is a big event in the local area, such as a charity event, demand for taxis may be busy. If you're expecting a surge in bookings, it would be good to ensure your taxi booking software is up to scratch and will cope. The iCabbi taxi solutions have great experience in coping with busy times. In the UK particularly, you just have to check out the testimonials of customers that we have. A quick read of our reviews should give you a great insight into how popular this automated software is for taxi fleets.
Collaborating during busy periods
It's also funny we mention restaurants. Whilst hospitality venues often provide a great service to customers, they don't always provide you with a way home. As a local taxi firm, a great way of garnering some business would be to coordinate with a local hospitality venue.
Reach out to any venues and learn if they have any big events coming up. If they do, you can be prepared. You can set your zone limits to ensure the drivers in your taxi fleet are not overbooked. (To learn how to do this, just check out the webinars available on our YouTube channel at iCabbiUK).
That way, you can ensure your drivers are ready for the increase in demand for journeys. Additionally, whilst also being prepared, you can make sure that they are not overbooked. By blocking out two to three timezones, a driver can be limited to the number of journeys that they can have assigned to them. If your focus is one event and you want to be able to lay on taxis for that party, this particular piece of advice would be very handy.
Learn more about the automated taxi dispatch software available in the UK by discovering more about iCabbi here.
Why you should choose automated taxi dispatch software UK from iCabbi
Here's a quick snippet of what you can expect when using the iCabbi taxi solutions. Click on the graphic to view all our other testimonials.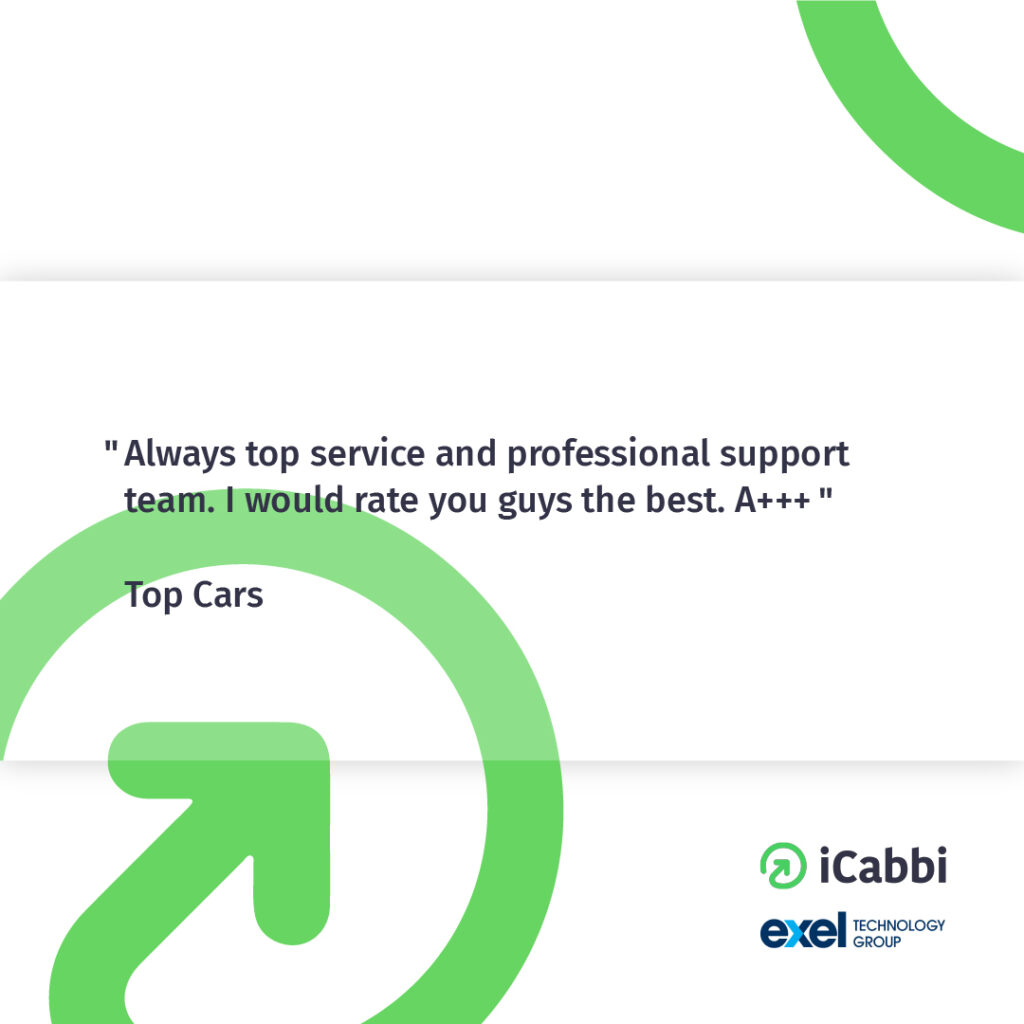 Still interested? Give us a call on 01623 44 22 11 or email us here.