How can you decide what is the best taxi dispatch software?
5th December 2021
Blog
Deciding which is the best taxi dispatch software for you depends on your taxi business goals. If you are looking to retain your drivers and keep them happy, then you need to be looking for a dispatch system that makes your drivers money. It also needs to make the system as easy for them to use as possible.
Below we discuss how you can decide which is the best taxi dispatch software for your taxi business. We go through the details explaining why pleasing your drivers is important, as well as why pleasing your passengers is important. It's all in here as you become the best taxi company on your patch!
The best taxi dispatch software for your drivers
We will start with the drivers because we've already begun to discuss this. To keep your drivers happy there will be two simple things. Make your drivers money and let them know that they are being treated fairly. Essentially they just want to know that other drivers are not being prioritised for better jobs. This was a common 'complaint' of drivers who still operate with manual dispatch systems and office staff. One part of the software from iCabbi is the driver app which should help you to satisfy your drivers in this regard.
Fortunately, the iCabbi taxi dispatch software helps eliminate the common driver complaints. As a cloud-based taxi dispatch system, it can fairly distribute jobs to the right drivers who are appropriately placed. So if you are a taxi business owner who is looking to improve morale amongst your taxi fleet, check out this system and see how we can help you to keep your drivers happy.
Find a software that is easy to use
As part of the driver app, a taxi driver will also be able to accept a job easily. A seamless transition will also ensure that your drivers are not having to deal with any complicated technology.
One of the key factors in assessing the best taxi dispatch software for your business is the ease of use. A driver won't always want to fiddle around with the technology they are given. They just want to log in and get going. With iCabbi's software, you simply provide your drivers with their login details and they'll be ready to go. It is just a get-up and drive. Another key selling point is that if you are a taxi fleet administrator, you can have access to the system at all times to ensure everything operates smoothly.
So when assessing taxi software, consider what the aim is for your taxi business. If your drivers are at the forefront of your mind, this system could be perfect for you. You can still be in control but the automation factor eliminates any common complaints. The driver app will revolutionise your business. It is easy to use and also comes with a highly accurate navigation system. Check out the driver app for yourself here.
Keep your passengers at the forefront of your mind
For any taxi business, if you don't keep your customers happy, they won't keep booking journeys with you. They are an essential part of the growth of your firm. So, if you want to grow your business, let's put them up there with your drivers. That's why iCabbi has developed a passenger app that can assist you in providing a fantastic journey.
Passengers essentially just want to get from A to B. However, they want to do it promptly. One of the best ways to get ahead of your competitors is to provide transparency to potential passengers. They are likely to assess two things when booking a taxi journey. These are:
How long is it going to take for them to get here?
What is the cost?
As part of the taxi dispatch system, the passenger app is a vital cog. It will help you to convert passengers when they are weighing up their options. With the availability to provide transparency on fees, especially during peak periods, you can guarantee there will be no great surprise for passengers when it comes to paying the fee. This will be a big thing for passengers. An honest and transparent taxi business with an app that provides fees and estimated journey times ahead of the journey is likely to convert a passenger.
Providing this transparency to passengers is what will set your company apart from the rest. The passenger app provides this functionality.
Automate your business with taxi dispatch software
Because it is a cloud dispatch software, this advanced system allows you to automate your taxi business. Gone are the days of mountains of admin staff, manually updating prices and ringing each taxi driver to let them know the next journey. With iCabbi software, our excellent customer success teams ensure that you can use the software to better your company.
All in all, when assessing what is the best taxi dispatch software for your company, you need to think of the automation factor. This gives your drivers and passengers a big boost in their confidence in booking a journey with you.
Don't just take our word for it though, below is a quote from one of our customers – Goldline Cabs. You can see what they said below but click on the image to see other testimonials about the team at iCabbi UK.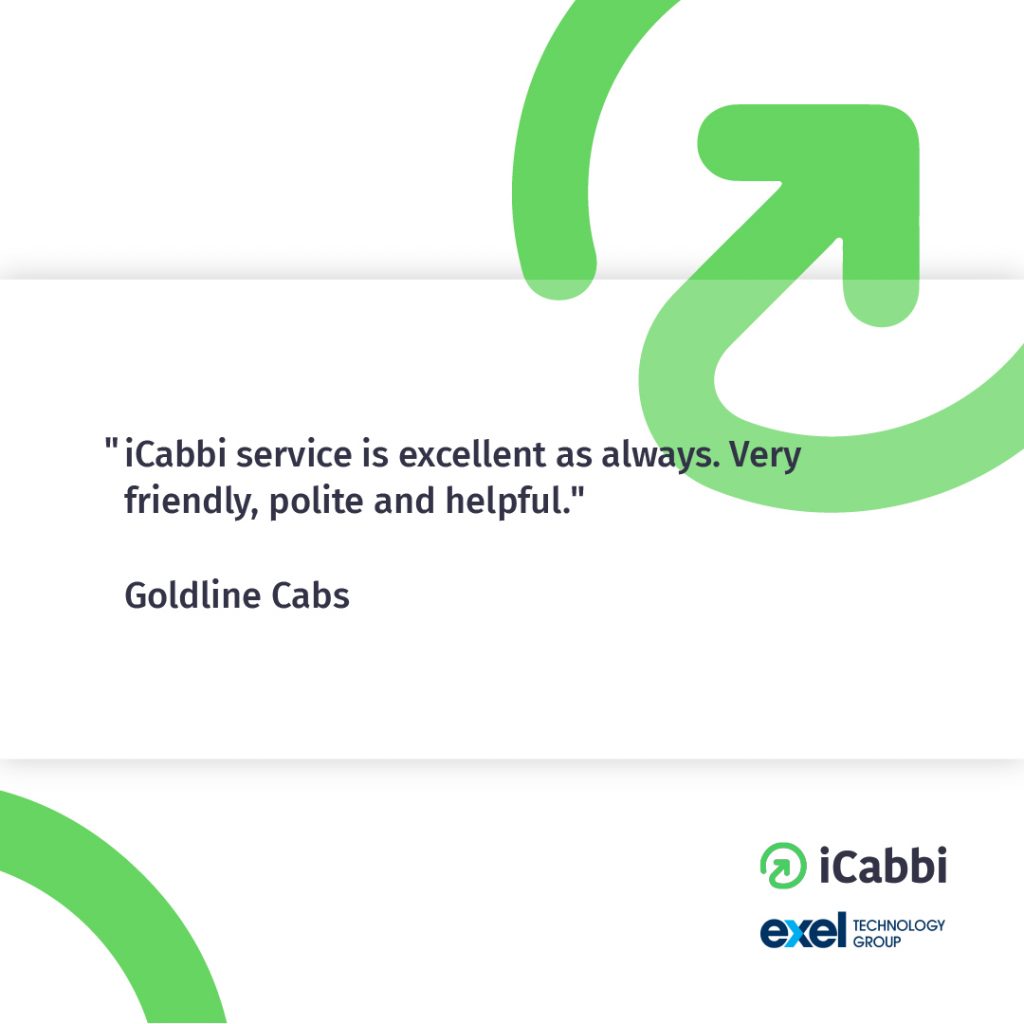 Get in touch about a FREE demo of the iCabbi taxi dispatch software by getting in touch with us here. Alternatively, call us on 01623 44 22 11. We'd love to help you out!