3 Elements of iCabbi's Cloud Taxi Dispatch Software
10th November 2021
Blog
The right taxi dispatch systems and software can bring your taxi company into the 21st century if utilised properly. Below are three reasons why we believe iCabbi UK's state of the art taxi dispatch software would be ideal for your taxi business. Don't just take our word for it though. After you've read the article, check out our testimonials at the bottom of the page. The iCabbi UK community is a great place and we'd love you to become a part of it. Here's what you'd get with your taxi business software:
iCabbi Taxi Dispatch System
If you're still stuck in the olden days with an outdated taxi dispatch system, an advanced taxi dispatch system is the way to revolutionise your business. Providing your employees and drivers with an up-to-date, easy to use system will keep them happy and streamline the process. That is an ideal way to grow your business. So, whether it is booking jobs, dispatching taxis, or even just using the software to manage your customers and drivers, it's the best way for business growth.
Alongside being one of the most advanced cloud-based taxi dispatch systems, another added benefit is you get the pick of your software. Whilst it makes sense to be able to choose from all state-of-the-art software, iCabbi customers are able to choose what they believe suits them. So the choice is just one of the options that businesses have. Whether it be the taxi driver app, the passenger app, or any other available piece of software, we can help you at iCabbi UK.
1) Private Hire Dispatch Software
If you are a private hire taxi firm then this software is ideal for you. Perfect for chauffeurs and other executive drivers, this system is chosen by many companies who are looking to improve their taxi business. In the eyes of many, a taxi dispatch software system that allows a passenger and driver full transparency is now a necessity.
Passengers want a smooth ride, but transparency is equally important. They want to know how much it is going to cost them and if a driver is available. By using this software, you'll be able to offer your passengers a seamless experience.
2) Affordable Taxi Dispatch Software and Systems
Of course, as with everything, replacing systems does come with a cost. We know this and we believe in the long term, it is a worthwhile investment. However, this software is also affordable in terms of cost but also reliability. The software rarely breaks down and is easy to use. This means running and helping costs should not cause too much concern. iCabbi software can meet the needs of your taxi firm, no matter how small.
In terms of efficiency, the company can also make you more money. The reason it is affordable is also in the way it can help you to cut costs. Not just through its automation, though they do help, our software also allows your business to become more sufficient and significantly reduce costs. Human error is more and more unlikely to occur. Not only are you saving costs from a human staff perspective, automating your business with state-of-the-art software reduces the number of mistakes or missed opportunities.
3) Help Your Drivers Perform Better with Taxi Dispatch Software
Ultimately, it's well known in the taxi industry that when your dispatch system works well, your drivers are able to perform better. An accurate GPS means that pickups are even more straightforward, and it provides a fair way of distributing jobs. This increases the chances of driver loyalty, as they don't feel maligned and a thriving business needs happier, more efficient drivers, eager for their next pickup.
Whilst you're here… Let's talk about the Passenger App from iCabbi
The Passenger App at iCabbi has much been talked about. You can view demos on the iCabbi UK YouTube channel which go into more detail but for now, it is important that you understand just how this can benefit your business. Passengers have too much choice now when it comes to which taxi firms they use. It's important you stand out from the crowd.
So, what makes your business stand out from a passenger's point of view?
Well, passengers can be impatient, especially if they are in a hurry. So, you'll probably want to ensure that your taxi business is able to provide live driver tracking. With iCabbi UK, you'll be able to do this. The passenger app provides transparency to booking customers. Being able to see where the taxi is can provide comfort. A passenger will know that your driver is on their way.
They'll also probably want to know how much the journey will cost. Again, the passenger app provides transparency for customers. They can see fixed fares but also the estimated pricing of the journey. This is a feature that is beneficial for your impatient passengers. If your pricing points are correct, it can help to give you a steal on your competitors.
Don't Just Take Our Word For It
We're not here to just promote though. A lot of taxi companies across the country have come through iCabbi UK to find their way to the top in their patch. We asked them to provide their own insights into the success of the taxi dispatch software and how great it has been for them.
Here's one example but follow this link to see many more!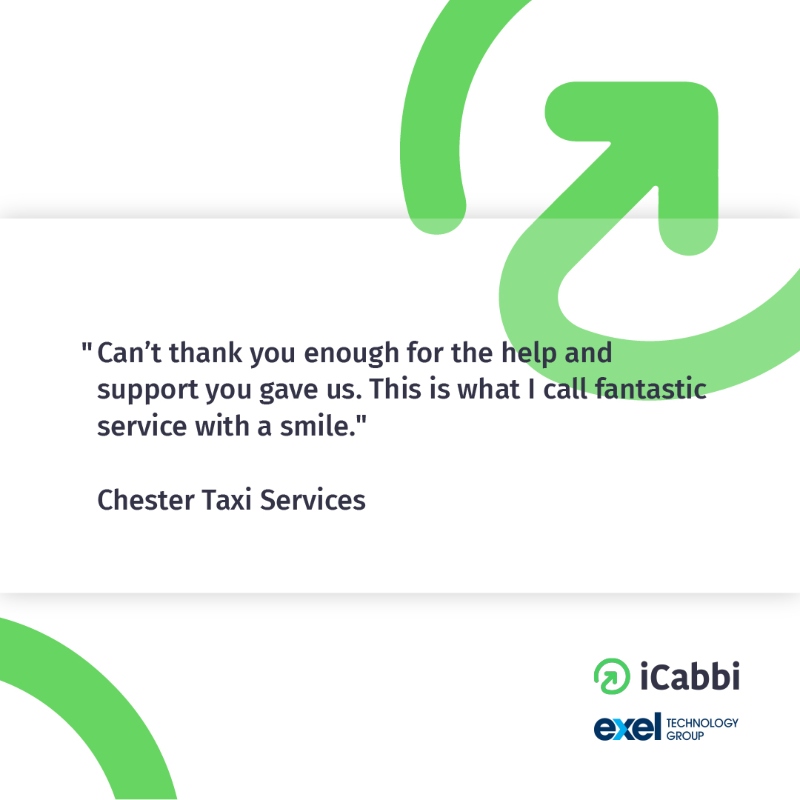 Contact us today by giving us a call on 01623 44 22 11. You can also pop us an email at enquiries@icabbi.etgl.co.uk. We'll help you in any way we can!