Why The iCabbi Driver App Is Essential To Growing Your Business
27th October 2021
Blog
Retaining and increasing the number of drives you have on your fleet is so important to growing your business. At iCabbi, we understand that and so much more. That's why we have worked hard on some expert software to ensure we help taxi firms to retain their drivers and grow. The secret ingredient? Well, allow them to optimise their trips and get them to make more money, in less time! There's no other way about it, that's the main thing any driver is looking for. We've combined everything a taxi driver would want into one driver app. Read more about it below!
What is the Driver App?
Taxi businesses like to use the driver app because of the usability factor. Easy to use, the app also has a highly accurate navigation system. Whilst it sounds simple, this is a vital way of keeping your drivers happy. There's also not that much faffing around in terms of set-up. Administrators can always control driver's access to the system at all times so there is also the security factor.
What are the key features?
We've touched on why drivers might like the app, but now it's time for us to go into more detail about the key features of the driver app.
One of the most common complaints from drivers is an inaccurate navigation system. There is nothing more annoying for a driver than if they realise that they could have taken a quicker route, avoided traffic or just provided a more comfortable route for the passenger. Fortunately, the iCabbi driver app has highly accurate navigation that comes with a big, bright screen. Ask any taxi driver what the ideal features of a driving app would be, and these will certainly be top of the list.
Easy to use taxi driver app
It's also easy to use. – Wait, surely this is the case for all apps. You would think so. But if you're running a taxi business, you'll be aware that taxi drivers may often complain about their app not working or not being fit for purpose. No driver wants to miss out on a potential journey, and subsequently money, because they couldn't work the app. With iCabbi, the app is famed for ease and simplicity of use. It is just ideal!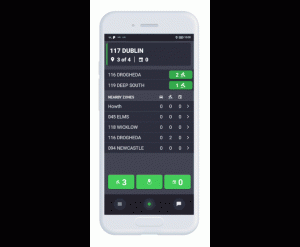 There are other features
For some iCabbi customers, it's not just about the driver app. There's also a driver smartphone package included with even more benefits. Check out the details below!
iCabbi Driver Smartphone Package
The term dedication is used plenty at iCabbi. We're dedicated to helping our customers. The taxi firms and businesses we work with are also dedicated to their drivers. That is why some of them opt for the smartphone benefits package. With this package, drivers are always available for voice and data communication.
Plus, due to the nature of it being fully locked down, important items such as GPS cannot be deleted. With it being slick in the visual display as well, the app is a large display that covers all of the screen, but is also easy to read. Additionally (yes, there's more), drivers always need a working device, and that's why the smartphone is fully insured. It comes with all the essential accessories, including the cradle, goose-neck and power lead. With iCabbi, there's always just that little bit more.
Customer touchpoints
As you've probably seen on our social media accounts recently, we've been talking about the benefits of driving with iCabbi. Not only will the software benefit your drivers but also it adds an extra layer to the touchpoints that you can add to your customers and passengers. Being able to view everything digitally can improve the relationship between your dispatch team and the driver.
Download the Driver App
After taking in all that info, you're likely to want to download the iCabbi Driver App. You can do that here.
If you're giving it serious consideration, you can request a free demonstration now to discover why iCabbi is the go-to choice for taxi businesses across the UK.
To get in contact, call us on 01623 44 22 11, or pop us an email at enquiries@icabbi.etgl.co.uk.