Our Commitment to You…
29th March 2021
Blog
Our Commitment to You…
We want to be a key part of your business journey – your partners in success.
As your partner, we want you to know that you have the right to expect these commitments from us…
1. Unrivalled Service – From the moment you contact us, you will receive impressive service. You will always be respected and never taken for granted.
2. We Own Your Problems – If you ever have a problem with one of our products or services we will put the full weight of our resources into solving it. Even when other service providers are involved, we take full responsibility for solving your problem. Your problem – we own it!
3. Your Complete Satisfaction – If we ever fail to meet your expectations, we will do everything we can to resolve the issue to your complete satisfaction.
4. Your Reality – We believe that your perception of our performance is always the reality.
5. Integrity – We will be honest, truthful, and 'upfront' with you at all times. We will honour the commitments we make to you without question.
6. Innovation – In our constant quest to be market leaders, your feedback is critical to us continuing to innovate and improve. We're always looking forward to your ideas, your feedback and your suggestions.
7. Communication – We will communicate with you frequently and openly as we build a win-win and long-term value-added partnership with you. We commit to giving you the ideas, techniques and tools that will help you create an outstanding business.
8. Better Business – You will always be able to seek our help to build a better, bigger, and more profitable business. We commit to going the extra mile to help you in every aspect of your business.
9. Quality & Value – While we will never be the cheapest in the market, the products and services we provide will always be of the best quality and value so that you get huge long-term benefit.
10. Delight – We want you to be so delighted with the products and services you buy from us, and with the support we give, that you are happy to refer us to your friends and colleagues in the industry.
As our client we want to be a key part of your business journey and success. We want to be much more than a supplier, we want you to see us as your indispensable business partners, as a group of talented people who are passionate about helping you succeed in every way.
You, your business, your success and wellbeing are important to us. You matter.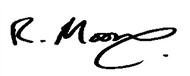 Richard Moore
Chief Executive