In Focus – The iCabbi Web Booker…
20th January 2021
Blog
If there is one thing the last year has taught us, it's that you need to be in a position to win every fare in your area – and to do that you need to reach customers wherever they are.
One way of achieving that goal is with a reliable, user-friendly Web Booker that lets your customers book, quickly and easily, on your website or via a web link.
Combine your Web Booker with a great Passenger App for a seamless experience that lets your customers book from virtually anywhere, whether it's pre-booking in the comfort of their home, or booking instantly on the app whilst they're out and about.
Discover iCabbi's Web Booker for yourself with a free, no-obligation demonstration. Simply call us on 01623 442211, email us or contact us via our website.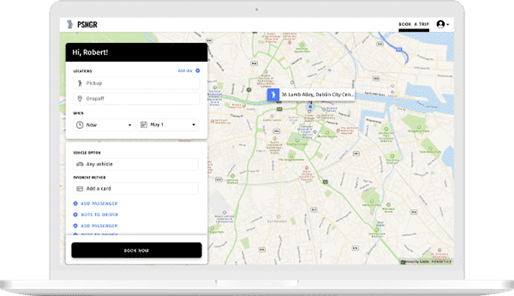 Flexibility and Simplicity for Customers…
For your customers, it provides a quick and easy-to-use booking system packed with features for an end-to-end digital experience they'll rely on time after time…
1. Hassle Free – Registering an account and signing-in to use the system takes seconds, reducing frustration and speeding up booking.
2. Bookings and Pre-Bookings – Passengers have the option to book a journey instantly or pre-book up to 7 days in advance.
3. Multiple Destinations – Easily book more than one destination for when there are multiple pick-ups or drop-offs on a shared journey.
4. Save Favourite Addresses – For simple re-booking of regular journeys, customers can save their favourite addresses to their account.
5. Multiple Vehicle Options – Your customers can choose the most suitable vehicle, with access to size and accessibility options.
6. Driver Tracking – Lets users track their driver and vehicle details on a map for pick-ups and drop-offs.
7. Accurate ETAs – No more guessing when their vehicle will arrive. Live ETAs help keep your customers fully updated.
8. Digital Receipts – Passengers can opt to receive a receipt by email after each trip or automate expense reporting to a business account.
More Automated Business…
Using iCabbi's Web Booker to drive bookings through your website and other online channels helps increase the amount of automated business you generate, whilst also reducing running costs.
It's fully responsive and white labelled, which means you can customise it to match your own branding.
Don't have a website? Not a problem.
iCabbi's Web Booker can be used as a standalone web page, enabling you to take advantage without the expense of building a website.
Whichever way you utilise it, you'll be up and running quickly, helping you maximise your potential share of the market.
See it in detail with a free demonstration…
If your current Web Booker doesn't work as it should, or doesn't provide you with all the features your business needs, or if you simply don't currently use a Web Booker, maybe it's time you took a closer look at iCabbi?
By requesting a no obligation, free demonstration of the iCabbi system, including the easy-to-use Web Booker, you'll get to see first-hand how you could win and retain more new customers by switching.
We'll need just 60 minutes of your time, and at the end of it, you'll know all you need to in order to make an informed decision on the future of your business.
What's more, you'll also get to see the complete booking suite of Web Booker, Passenger App, iCabbi Voice (Interactive Voice Response) and Business Solution.
For more information or to request a free demonstration of iCabbi, call us now on 01623 442211, email us or contact us via our website.