In Focus – The iCabbi Passenger App…
26th November 2020
Blog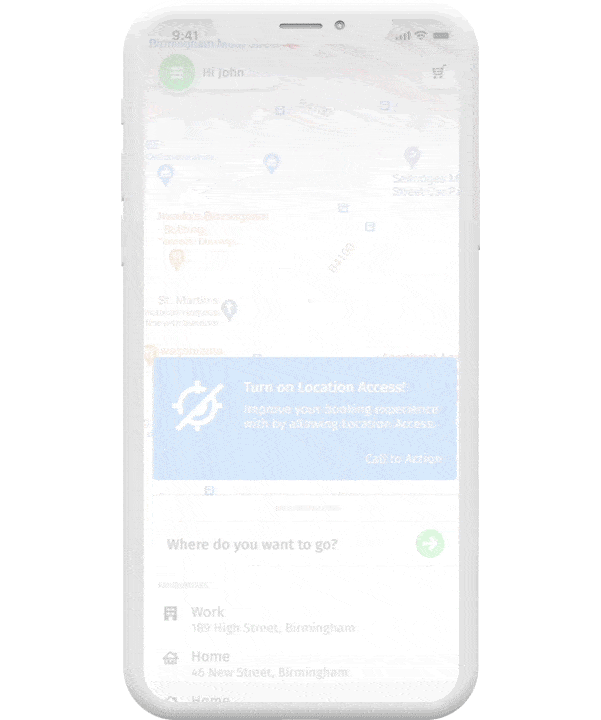 Having a great passenger app is no longer a 'nice to have', it's an absolute must if you want to compete and win in your local area.
But it doesn't stop there. Just having an app isn't enough.
A truly great passenger app will deliver all the ease-of-use features your passengers demand and want to use, as well as providing a host of key benefits to you and your operation, helping you run more efficiently.
The iCabbi Passenger App provides all of this and more and is probably the most sophisticated app on the market. Let's take a closer look…
Passenger Features
Providing a passenger app that's feature-packed, and that your customers love to use helps you keep them loyal and generate new customers and increased income.
Here are just a few of the key features of iCabbi's Passenger App…
1. Cross platform availability – Android or iOS, your customers can easily find and install your branded app on their device.
2. Quick start – It takes just a few seconds to set-up and register so your customers will find it easy to get up-and-running.
3. Customisation – Passengers can choose exactly how their screen looks, changing font size, colours, and dark mode options. There's also voice commands and text to speech features.
4. Simple bookings – With just a couple of clicks, customers can make an immediate booking or book up to 7 days in advance.
5. Vehicle choice – If your customers need a specific vehicle for a certain number of people, or for accessibility requirements, they can select the appropriate vehicle when they book.
6. Ease of payment – Quick, hassle free payments with cash, credit card, Apple pay, or Google pay.
7. Driver tracking – Customers can get accurate ETAs and map based tracking of their driver so they know exactly when their vehicle will arrive.
8. Loyalty and promotions – Run schemes to offer your customers loyalty points and special promotions at certain times of the year.
Business Features
A truly market-leading passenger app won't just focus on the customer experience, it'll also work hard to help the business run more efficiently and reduce costs.
Here are just some of the key business features you'll benefit from…
1. Industry first fraud detection – Reduce lost revenue as a result of fraud with increased security (3DS) and up-front payment authentication. Meets SCA requirements to ensure you're fully compliant.
2. Custom built payment portal – Easily manage all your payments in one place, including automated fraud dispute management direct with banks. Save time, reduce staffing requirements and increase revenue.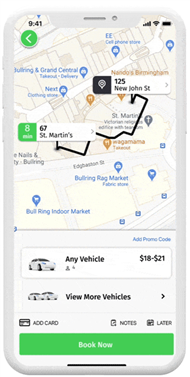 3. Boost marketing – Increase booking and generate new customers with loyalty point rewards, referral scheme, special promotion codes and vouchers, gift cards and more.
4. Seamless integration – Being fully integrated with iCabbi's Dispatch System means that managing all your automated bookings is seamless, with everything from payments, invoicing, job allocation, driver management and more all in one place.
5. New income streams – If you want to expand your offering to include goods as well as people, the iCabbi Passenger App will let your customers book food & goods collections and deliveries.
6. Fully owned and branded – iCabbi's Passenger App is fully branded with your company logo and colours as well as being registered with Apple and Google in your name, meaning you own it. Crucial if you ever want to switch and migrate your customer data in the future.
7. Regular free updates – Being a cloud based system, you'll receive regular updates and fixes as soon as they're available and all for free. This ensures your app remains up-to-date with advances in security, payment options, customer features and more.
Is it time you took a closer look?
If your passenger app doesn't offer you the same amount of features and benefits as this, or worse still if you don't currently use a passenger app, maybe it's time you took a closer look at iCabbi?
By requesting a no obligation, free demonstration of the iCabbi system, including the highly advanced Passenger App, you'll get to see first-hand how you could win more business, retain more customers and become more efficient by switching.
We'll need just 60 minutes of your time, and at the end of it, you'll know all you need to in order to make an informed decision on the future of your business.
For more information or to request a free demonstration of iCabbi, call us now on 01623 442211, email us, or contact us via our website.